The jury met and decided. Four artists and works were chosen. SABAA is proud and glad to honor these magnificent artists with the award. Find the artefacts and their creators below, listed by category. Beginning of 2022 an online-exhibition will showcase a substantial selection of the works handed in. The exhibition will cover the topic of "Pandemic Voices and Views from Sub-Saharan Africa" as well, exploring it with images and texts. Beyond that, a catalogue (including furthers insights from research and observations to create a much needed container for memories, visions and status-checks) will be published online.
Come back beginning of January and be inspired!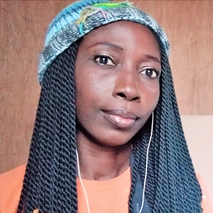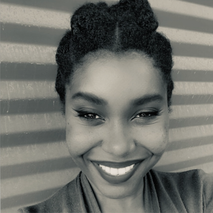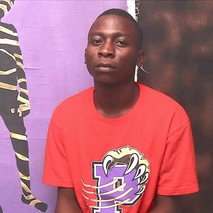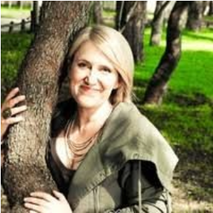 Clara Aden
award in illustration
Yaba Armah
award in writing (English)
Eshinlokun Wasiu
award in painting
Antionette McMaster
award in photography
---
Winner: Eshinlokun Wasiu. 
From: Lagos, Nigeria.
Eshinlokun Wasiu (born 1998) is a full-time artist who sees life`s challenges as a tool for creating his work that seeks to speak about society and its effect on the people around. Culture, identification and power of humanity  are a few aspects of his current research and artistic practice. He is a member of the title deed art collective curated by Ken Nwadiogbu 2019/2020 and held a residency at AAF ( African Artists' Foundation ) in the year 2020
He states: "There´ll be always a need to understand life and the reason we are present at each moment we find ourselves as human. This has been my priority to bring light and know who we truly are." 
Jury statement by Jarred Erasmus, Lars Roth:
"Wasiu's work has a strong approach and understanding of composition on a flat surface. The placement of the figures and the utilisation of flat texture to render them as silhouettes to further exemplify the tension between them using the tape is a smart choice. Also using the gender representing the two figures to further comment on the larger societal struggles within communities is potent. Overall the understanding of image making and how to contextualise ongoing societal struggles visually is extremely well done here and must be commended."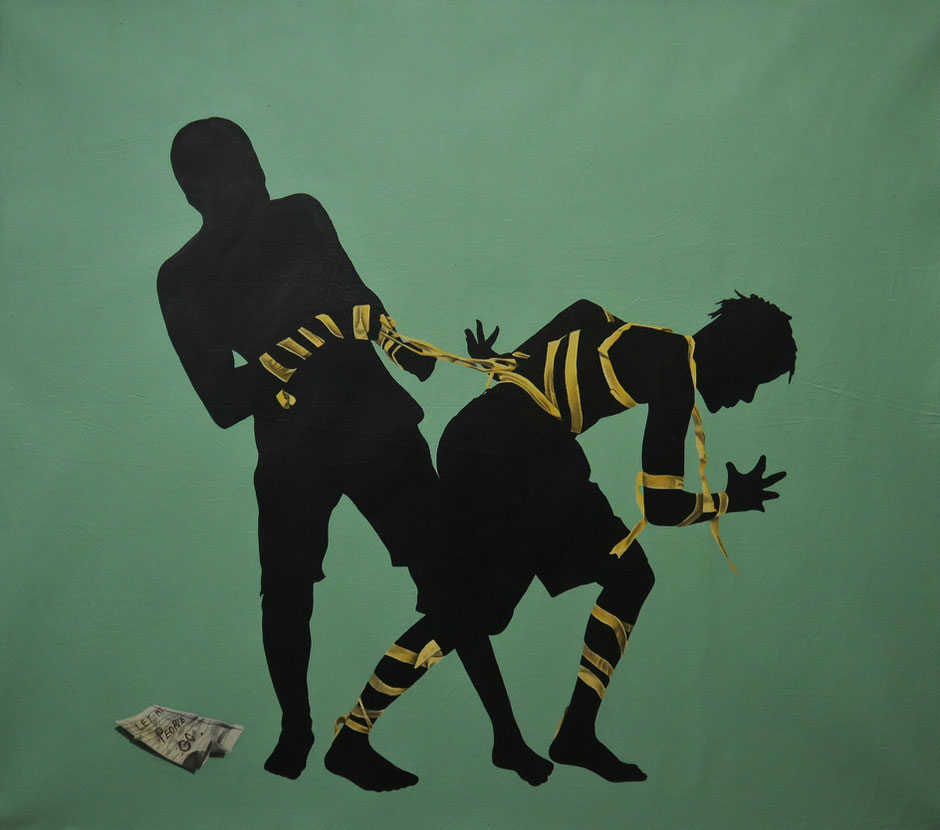 Artists shortlisted and honorably mentioned by the jury: 
Alice Penda / Sasan Meftahi / Joe Turpin / Ernesto Guambe / Editha Gyindo Deja.
---
Winner: Clara Aden.
From: Lagos, Nigeria.
Clara Aden has exhibited in the U.S.A., Norway, Germany, and Hungary. Her drawings have been celebrated at Global Images of U.S. Women, Pennsylvania in 2015, and at the Amref Artball 2019, a premier African art auction and philanthropic event. She works in oil, acrylics, pastel, mixed media, but her principal medium is pencil and charcoal.
She states: "I'm sure if the solution to the pandemic was to ´kick-box´ the virus, millions of people would start trading their shoes for boxing gloves...People are indeed feeling boxed in."
Jury statement by Babalwa Tom, Ricarda Wallhäuser: "
Ms. Aden convinced the jury with her sophisticated style, which stays in the mind. Her reverberant artwork gets even more powerful each time being looked at. Her work shows how artistic positions can help to reflect on the complex situation, Covid-19 puts us all in."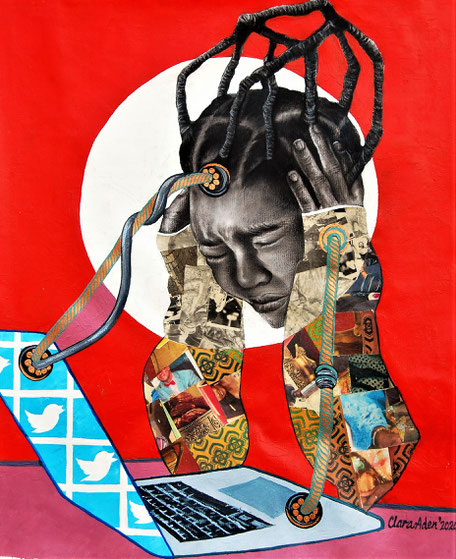 Infodemic Series I
Charcoal Acrylics Paint and Photo Collage, 2020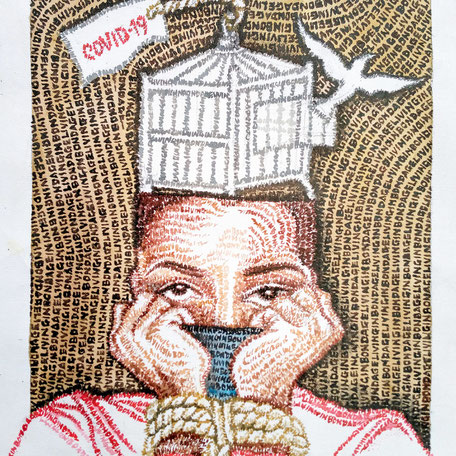 I believe I can fly
Hand-drawn Letterings on Canvas, 2020
Artists shortlisted and honorably mentioned by the jury:
Albert Ohams, Elias Bahati, Kajebe Joshua Jacob, Kgaugelo Rakgwale, Yussuf Aina, Joseph Steve, Erinah Babirye, Mzwadile Molestane, Neo Makondo, Wallace Juma, Grant Jurius.
---
Winner: Antionette McMaster.
From: Sasolburg, South Africa.
Visual artist, born in 1970 in South Africa. Since 2017 participation in several group exhibitions; selected to be exhibited with #ALLWOMENMATTER; works to be found in private collections, in public buildings; works commissioned by private art-collectors.
She states: "In South Africa violence against women is endemic. With the Covid-19-Pandemic lockdown the violence and abuse escalated at an alarming rate. My work engages with constructed masks and costumes photographed in site specific areas. My intention is to create a space and platform that will give birth to a different narrative which will help start conversations."
Jury statement by Imme Dattenberg-Doyle, Kim Dotty Hachmann: "
Using surrealist imagery to comment on the present, in Antionette McMasters images, anonymised female figures surrounded take center stage, shrouded in delicate masks and foliage to highlight the devastating effects of isolation on victims of domestic violence."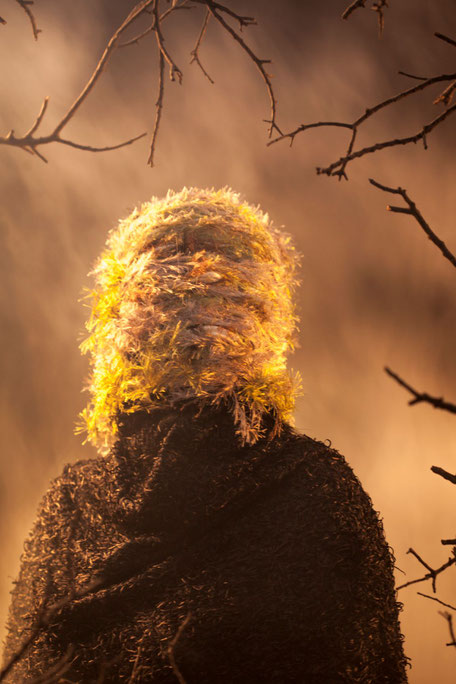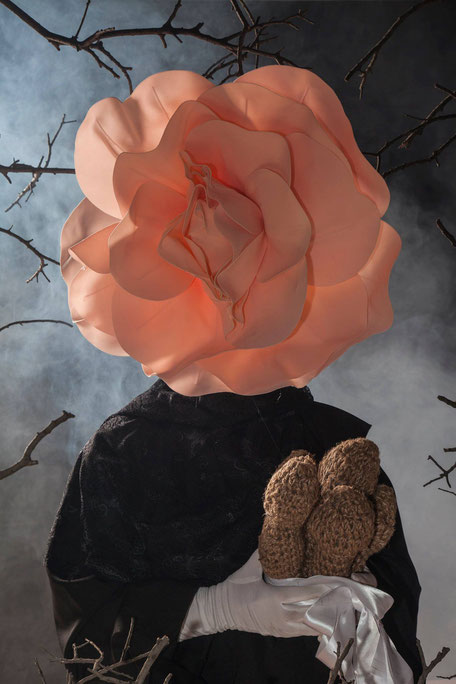 Artists shortlisted and honorably mentioned by the jury: 
outstanding: Abdoul Mjyambere (as a close second) /
further: Tommy Ominde / Ismail Odetola / Kesh Nthamba / Shana-Lee Ziervogel / Bonsa Abdi / Yosef Getachew.
---
Winner: Yaba Armah.
From: Accra, Ghana.
Yaba Armah´s focus is on creating new Ghanian fiction and her goal ist to fully explore the market in which a well-told story can be traded for a change in mindset: Not just of the Ghanian but of the outside world looking in. Works so far: Five short films; three original plays. Shortlisted for the Adina-Talve Goodman Fellowship. Lead writer for the graphic novel "MoonGirls".
She states: "This dark comedy is centered around an elite funeral and seeks to shine a light on a sector of wealth, we often fail to fully appreciate: Access to information."
Jury statement by Gloria Kicono, Wolf Kampmann, Simon Asiimwe:
"Yaba Armah´s "Viewing at Dombo Lodge" is a well-crafted story that plunges us into a chaotic sequence of discoveries at a funeral during Covid-19. It is a vibrant and humorous tonic in time of prolonged monotony, anxiety, and inertia".
"Viewing At Dombo Lodge", short story by Yaba Armah, 1st prize SABAA #ensemble award 2021 (full text)
Viewing At Dombo Lodge, Yaba Armah, SABA
Adobe Acrobat Dokument
179.3 KB
Artists shortlisted and honorably mentioned by the jury:
Kalkidan Getnet, Beldine Mouturi, Mercy Wambui.
---
With just a few submissions in this category, no text could qualify convincingly.
Jury statement by Acèle Nadale, Nadine Beringuer: "No price was awarded in the French-language literature category".